Meet Your Team
Our dental office wouldn't be complete without our experienced, caring team! Whether it's helping you schedule an appointment, answering a dental insurance question, or taking important X-rays of your teeth, our team members are here to help however we can. At every step, we strive to make your experience with us a positive one. We can't wait to meet and serve you and your loved ones. You can get to know us better by reading the biographical information below.
Eugenia, Office Manager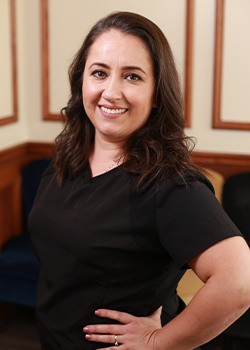 Eugenia has been a member of the Studio Dental team for almost a full decade now. What she loves most about her position is the wonderful people she works with! Everyone is truly good friends, both inside and outside of the dental office. She also really enjoys meeting new patients, caring for them, and making lasting connections with them.
Originally from Simi Valley, CA, Eugenia has been married to her high school sweetheart for over two full decades. They have three beautiful children named Katelyn (a junior in college), Jaime (a junior in high school), and Nicholas, who is the baby in elementary school. The last family member is her fur baby Phoebe, who is a Morkie. In her spare time, she really enjoys doing nails (both her own and everyone else's) and gardening. She definitely has quite a jungle growing so far, both indoors and outside of her home!
Priscilla, Registered Dental Assistant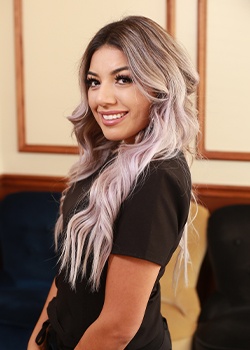 Priscilla originally hails from Fort Worth, and she's been a part of Studio Dental for nearly a full decade. She attended Collin County Community College for her education. Today, what she loves most about her position is seeing people happy! Creating great relationships with patients over time is such a joy. This dental office feels like a second home to her, and Dr. Kim, besides just being Priscilla's boss, is her great friend too.
At home, Priscilla has two beautiful children named Sofia, who loves to dance and play softball, and Luis, who has a strong passion for baseball. Her absolute favorite thing to do outside of work is watching her kiddos play sports. She also loves baseball (GO RANGERS!) and makes sure to save time every day to go to the gym.
Josie, Dental Assistant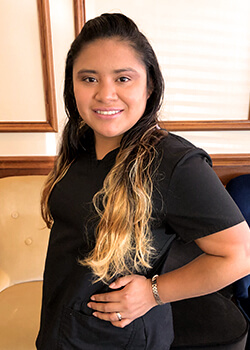 Josefina is from Mexico City originally, and she was taught dental assisting at Dental Studio of Carrollton by two highly experienced and talented dentists. Today, her career in the field covers over five years. What she enjoys most about working at Studio Dental is having the valuable opportunity to help others improve their smiles while also being able to educate them about the lifelong importance of oral hygiene. She's always ready to go above and beyond to help others!
Josefina hails from a family member that includes two brothers and four sisters. She has been married to her handsome husband for over five years, who is also an amazing dad to their two daughters Aimee and Natalie. Whenever she's not busy at work, her favorite hobbies include spending quality time with her children, doing outside activities, and being hands-on whenever possible through crocheting, crafting, painting, cooking, and much more.