Meet Your Team
Our dental office wouldn't be complete without our experienced, caring team! Whether it's helping you schedule an appointment, answering a dental insurance question, or taking important X-rays of your teeth, our team members are here to help however we can. At every step, we strive to make your experience with us a positive one. We can't wait to meet and serve you and your loved ones. You can get to know us better by reading the biographical information below.
Eugenia, Office Manager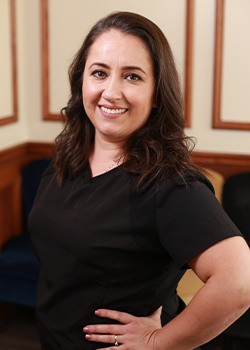 Eugenia has been a member of the Studio Dental team for almost a full decade now. What she loves most about her position is the wonderful people she works with! Everyone is truly good friends, both inside and outside of the dental office. She also really enjoys meeting new patients, caring for them, and making lasting connections with them.
Originally from Simi Valley, CA, Eugenia has been married to her high school sweetheart for over two full decades. They have three beautiful children named Katelyn (a junior in college), Jaime (a junior in high school), and Nicholas, who is the baby in elementary school. The last family member is her fur baby Phoebe, who is a Morkie. In her spare time, she really enjoys doing nails (both her own and everyone else's) and gardening. She definitely has quite a jungle growing so far, both indoors and outside of her home!