Dental Implants
The Best Solution for Missing Teeth
Your teeth are actually composed of two main parts: the crown you can see, and the root below that keeps it stable. Most tooth replacements only bring back the crown, but implants now offer an option that restores 100% of a tooth, giving them unmatched stability and durability. Whether you are missing one tooth, a few teeth, or all of them, Dr. Kim can use this state-of-the-art treatment to rebuild your oral health, bite, and appearance all at the same time. If you're ready to permanently close the spaces in your smile, contact us today to learn more about dental implants in McKinney, TX.
Why Choose Studio Dental for Dental Implants?
Entire Procedure Completed Under 1 Roof
1-Day Immediate Dental Implant Crowns Available
3D Guided Implant Surgery
Benefits of Dental Implants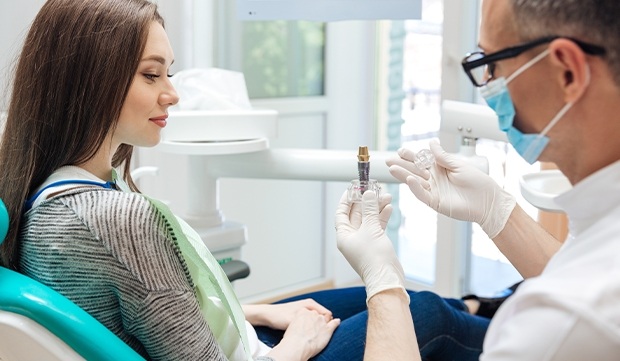 A dental implant is actually a prosthetic tooth root made of titanium that is placed into the jawbone where a natural tooth used to sit. This is then attached to a crown, bridge, or denture to restore the teeth above the gum line. Why are so many patients choosing to get implants instead of regular bridges and dentures? Because implants offer so many unique advantages, including:
Premier Security: Because dental implants are supported by the jawbone just like real teeth, patients are able to eat whatever they like without their new teeth slipping.
Lifelike Appearance: Every implant is topped with a custom-made restoration that is specially color-matched to blend with a patient's smile.
Long-Term Solution: The jawbone usually starts to shrink following tooth loss, but once dental implants have been placed, they actually encourage the growth of new, healthy tissue. This keeps the bone strong, which in turn allows it to provide adequate support for the facial muscles, leading to a younger, healthier appearance.
Made to Last: The average bridge or denture can usually be expected to last for about five to seven years. The average lifespan of a dental implant? 30 years.
Indications for Dental Implants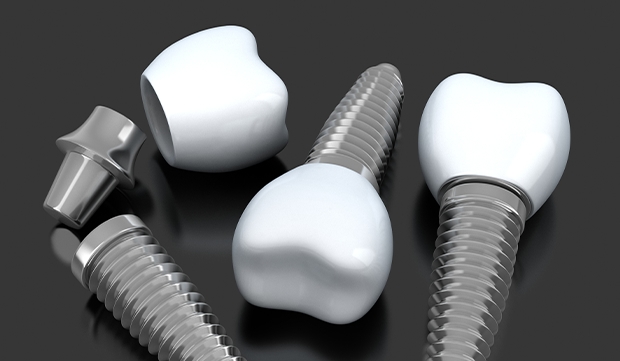 One of the best things about dental implants is their versatility. The roots can be paired with a number of different restorations to bring back any number of teeth. Which type would be best for you? Our team can help you decide when you come in for a consultation.
Missing Single Tooth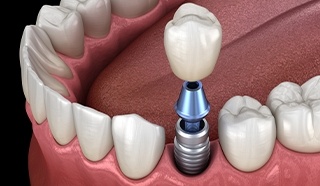 For this problem, a dental implant is placed into the jawbone and topped with an all-porcelain crown. Unlike with a traditional bridge, the nearby teeth won't need to be reshaped and filed down to make room for the prosthetic, preserving someone's natural dental structure.
Missing Multiple Teeth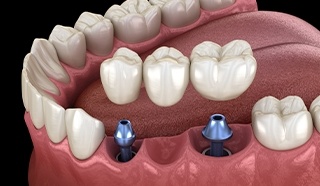 Prosthetics like partial dentures and bridges can replace just a few or several teeth at once, and dental implants can be used to give them support. Thanks to this foundation, the new teeth will be extremely stable and allow a patient to comfortably chew whatever they want.
Missing All Teeth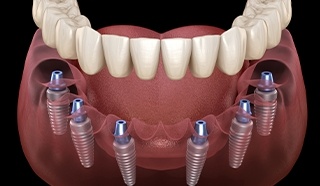 For patients missing most or all of their teeth, we only need to place four to six implants into the jawbone to hold a full denture. Implant-dentures are not only more comfortable than removable ones, but they allow for a stronger bite as well, enabling patients to eat a variety of foods usually considered "off limits" for denture wearers (like cooked meats and fibrous vegetables).
Start-to-Finish Convenience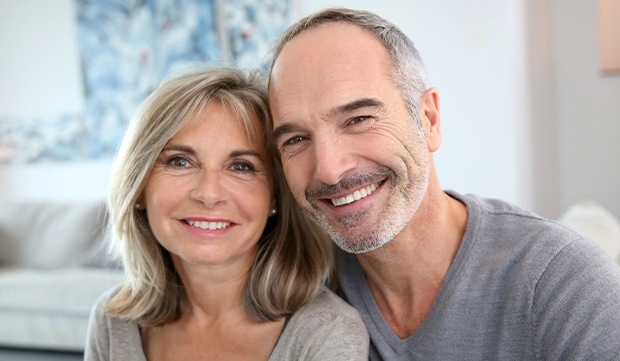 Dr. Kim is extremely experienced at placing dental implant roots as well as restoring them with custom-made crowns, bridges, and dentures. In fact, she utilizes 3D surgical guides to ensure every placement procedure is as quick, comfortable, and successful as possible. She's also one of the few dentists who can provide a 1-day immediate implant crown, meaning someone can literally walk into our dental office and leave with a brand new tooth in a single appointment. Her ability to do everything saves patients the hassle of having to travel between different specialists, which is what most other dental offices will make you do for implants.
What is 3D Guided Implant Surgery?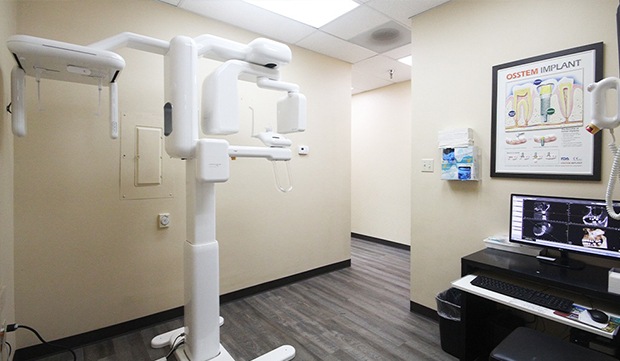 3D guided dental implant surgery is the new frontier in modern tooth replacement! Our team will use state-of-the-art 3D computer technology to determine a precise, confident surgical plan for the placement of your dental implants. With this approach, there is NO guesswork, and we don't have to worry about unexpected "surprises" along the way either. Better yet, we can keep bleeding, swelling, and general discomfort to an absolute minimum so that patients can spend less time in the treatment chair and get back to their daily routine faster.
Understanding the Cost of Dental Implants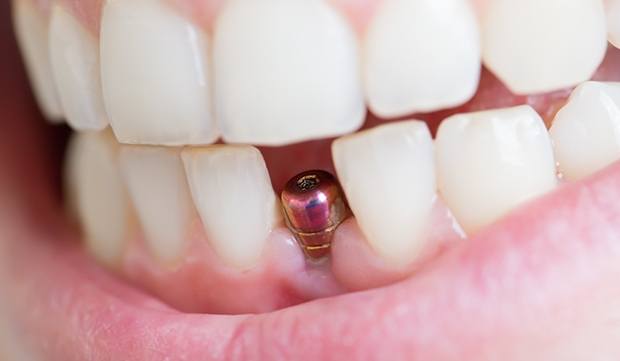 Every patient is unique, and so is every dental implant treatment. Factors such as how many implants are needed, where they will be located in the mouth, and what kind of restoration is used can all influence the final price, meaning that the cost is always different from patient to patient. Even though implants tend to cost more upfront compared to regular bridges and dentures, their longevity usually helps patients save tremendously in the long run because they don't have to replace their new teeth nearly as often.