Traditional Braces
Giving Patients a Straighter, Healthier Smile
Traditional metal braces in McKinney remain one of the most reliable and effective methods of orthodontic treatment. Whether you have crooked, overcrowded, gapped teeth, or you have a bite alignment issue, the use of metal brackets and wires can realign your smile and improve your oral health. While ideal for children and teenagers, adults can also benefit from traditional braces, especially if a more severe alignment problem exists. Ready to let Studio Dental help you make a difference in your smile? Contact our office today to schedule a consultation.
Why Choose Studio Dental for Traditional Braces?
Flexible payment options available
Highly-skilled dental professional who produces outstanding results
Customized treatment plan to ensure a straighter smile
How Do Traditional Braces Work?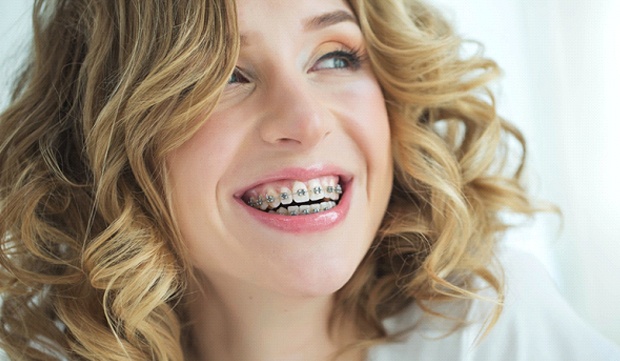 Both children and adults can benefit from traditional metal braces. For decades, individuals have sought effective orthodontic treatment to straighten teeth in McKinney. The combination of metal wires and brackets make it possible to apply just enough pressure to shift teeth into proper alignment, allowing a person's smile to improve and work as they should.
Although other alternatives have made their mark in the orthodontics world, traditional braces still stand the test of time.
The reason is that they work! Complete with metal brackets and an arch wire, the components work together to move and correctly position teeth, so that your bite will be aligned, reducing any pain in the jaw or excessive wear and tear on your teeth.
No matter if it is you or your child receiving traditional braces, the process remains the same. During the appointment, Dr. Kim will use a special bonding agent to place brackets onto the surface of each tooth. Using a metal wire, she will thread it through the brackets, snapping it into place. This metal wire will be adjusted throughout treatment to force the teeth to move.
Depending on the individual case, it may be necessary to incorporate additional appliances such as rubber bands to help better align the lower and upper jaws. While most adults will opt for a more generic, less noticeable color, children can choose from various colors.
Who is a Good Candidate for Traditional Braces?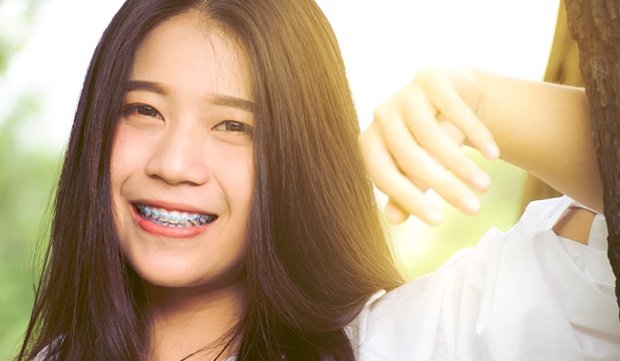 It is important that you or your child have good oral health before receiving traditional braces. The reason is that should gum disease or tooth decay be present, it can make it much more difficult trying to treat these problems while wearing braces. If Dr. Kim believes periodontal therapy or a filling is necessary prior to the placement of your braces, you will need to have these procedures completed first.
You may also find that a tooth extraction might be recommended, especially if overcrowding poses a problem that could hinder the success of your orthodontic treatment.
Tips for Day-to-Day Maintenance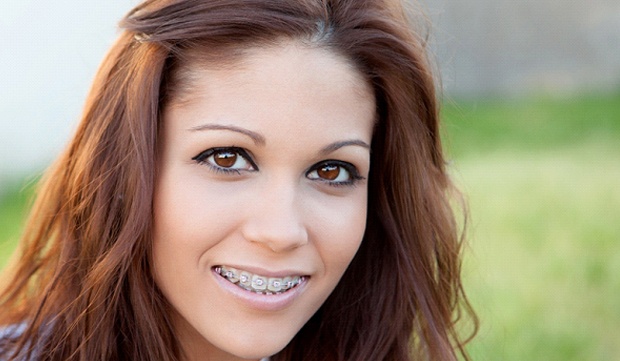 While wearing your braces, there are a few things you should remember to do to in your day-to-day routine:
It is best if you brush your teeth after every meal or snack, as food particles can become trapped in your braces. If left alone, this can increase your chances of decay.
Brush at the gum line and above and below the brackets, and make sure to rinse your mouth before and after brushing.
Waxed floss should be used to clean between your braces and under the wires. You should do this daily. It may be easier to purchase a floss threader to help.
If space exists between your teeth, invest in an interdental brush to get between your teeth or a water irrigator that pulsates water to remove plaque and food debris from your braces.
Avoid sticky and chewy foods that can stick to your braces and create problems when trying to remove them. Also avoid hard foods like nuts, popcorn, or beef jerky, as these can break your wires and loosen brackets.
Use wax over your brackets to prevent irritation to your soft oral tissues.
What Are the Benefits of Traditional Braces?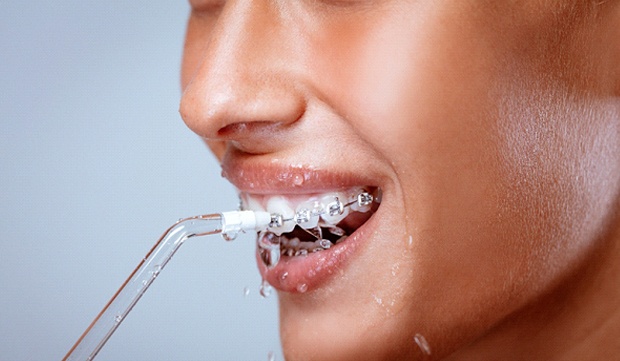 The fact that most dental professionals who offer orthodontic services continue to use traditional braces to straighten smiles is a testament to the effectiveness and reliability of these metal fixtures. While they do not promise discreetness, they do provide a host of other benefits, some of which include:
Improved appearance and increased confidence: Traditional braces may show up more noticeably than Invisalign, the results you will achieve cannot be overlooked. With metal braces, you will have an enhanced smile that no longer causes you to hide or remain tight-lipped in pictures. When you look great, you feel great, which ultimately boosts your confidence level, too.
Better oral health: Straighter teeth mean a healthier smile. No matter your original problem, a more properly aligned smile is easier to clean and maintain. That means you are less likely to see cavities, tooth decay, or gum disease develop as well as TMD (temporomandibular disorder) or bruxism (teeth grinding).